Subrion is an open-source PHP content management system which has always aimed to be as comprehensive as possible in terms of functionality, whilst holding true to it's user-friendly ethos.
Key features such as full source editing, per-page permissions and extensive plugin options have always been part of the platform, but now with a host of improvements recently launched along with Subrion CMS 3, users are in for a far more powerful Subrion experience.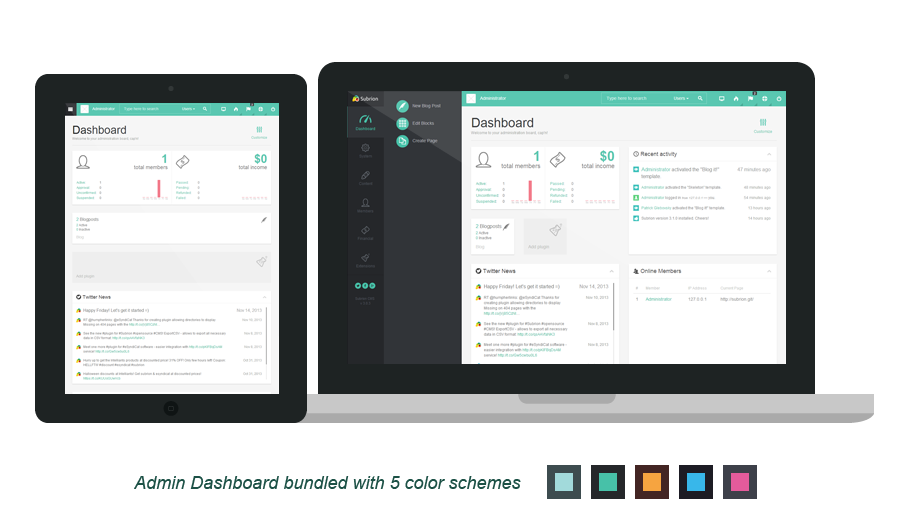 The most obvious improvement introduced by Subrion CMS 3, is the enhanced admin dashboard. The core version comes in a selection of 5 different colours by default, making it easy to customize your experience right out of the box.
The brand new dashboard, along with its 5 bundled colours, is extremely easy on the eyes, and even simpler to use, thanks to bold menus and logically grouped tools and features which makes managing content a breeze.
This new user interface is sleek and organized, allowing you to access different areas of your Subrion admin panel with ease, whilst also displaying key content such as Twitter news and recent activity via the main dashboard.
Subrion CMS 3's admin dashboard is also fully responsive, so it can be viewed via tablets and smartphones, allowing you can manage your content easily – anywhere you go. To help achieve this flexibly responsive function, Subrion have utilized the de-factor standard Twitter Bootstrap 3, and the latest version of Sencha JS.